LandVac Won the "China Green Product Certification"
2020-11-05
Recently, the awards ceremony for China's first approved green products hosted by the Department of Certification Supervision and Regulation of the State Administration for Market Regulation, was held in Beijing. At the event, LandVac became one of the first "China Green Product Certification" recipients, receiving again the national recognition!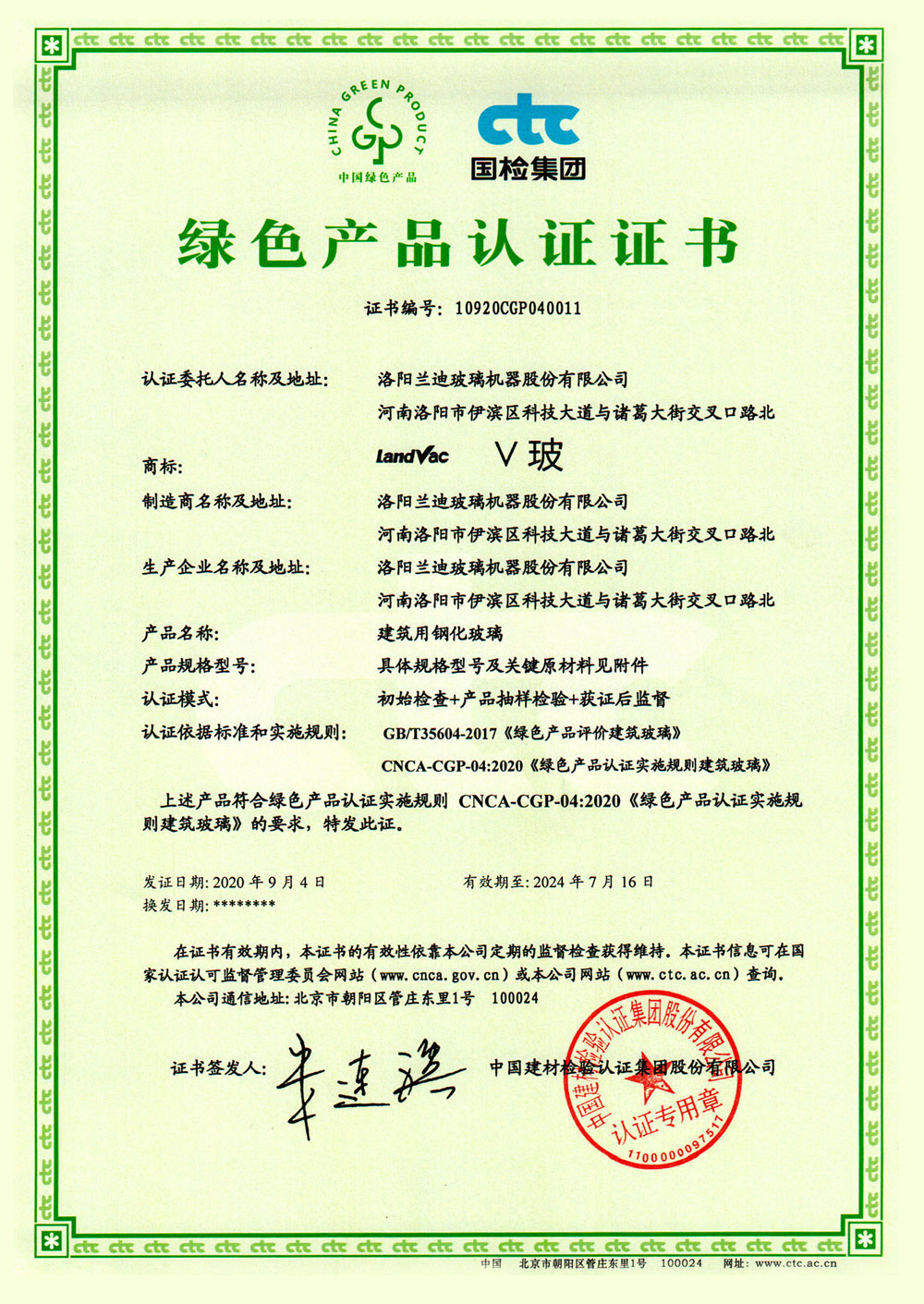 The China Green Product Certification is the highest level certificate issued by the certification body on behalf of the country to recognize the development of green products. It indicates that the product is in conformity with the concept of green development during its entire life cycle and is a healthy green product recommended by the country. In the review, CTC assessed the products in terms of the resources, energy, environment, and quality according to the GB/T35604-2017 "Green product assessment--Building glass" with a focus on pollutant emissions, work environment management, safety management and other aspects in the production process management. After rigorous evaluation process, LandGlass was awarded with the "China Green Product Certification", becoming one of the first China's green products manufacturers and one of the first enterprises approved by the national green product certification in the industry.
The reward to LandGlass as the first enterprise awarded with the "China Green Product Certification" represents not only a high degree of recognition to the company's green production concept, but also the anticipation and encouragement to its future development. LandGlass has always been actively practicing the "Green Development Concept" put forward by the country and is committed to providing a variety of products and application solutions for green buildings. Since its introduction, the high performance energy efficient LandVac has passed a series of domestic and international authoritative approvals including 3C certification, AAA green building material certification, RoHS lead-free certification, and energy-saving product certification. Its successful applications can be found in many projects built by SCHOTT of Germany, Velux of Denmark, Phononics of the United States, Country Garden, China Poly, and other well-known domestic and international companies.