Reveal of Vacuum Glazing(VI)
2022-04-18
Brands and Clients of Landvac vacuum glazing in China
At present, Landvac vacuum insulated glass has been widely used in commercial real estate (Ibin Innovation Building, Xuchang Yuhuwan, Hefei Taiwan Enterprise Management Center), industrial projects (Dongfeng Honda, Shuanghui, Muyuan), municipal projects (Beijing Construction Research Institute, Zhengzhou Commission for Discipline Inspection, Erlitou Museum, National Energy Administration), civil buildings (Poly Real Estate, Evergrande Group, Country Garden), and has formed long-term partnerships with large door and window enterprises (Sayyas, Henan CROWN) and household appliance companies (Haier, Casarte).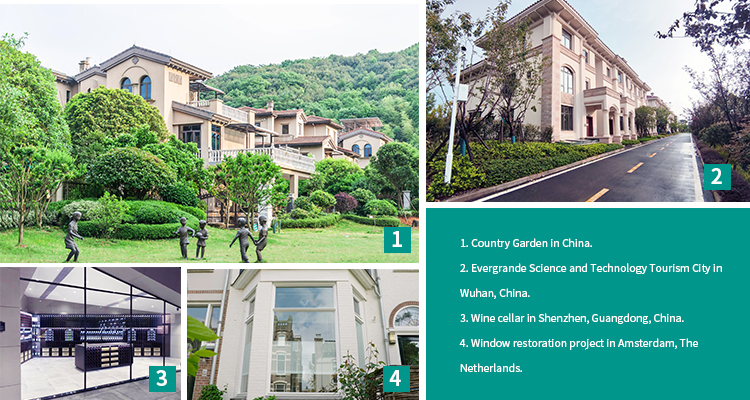 Brands and Clients of Landvac vacuum glass worldwide
Landvac vacuum glazing is very popular in the international market. In the United States, the excellent anti-condensation performance of Landvac tempered vacuum glass has been favored by a well-known home appliance company, and the superior performance of energy-saving and noise reduction has also been recognized by Hartford, the largest insurance company in the United States; in the United Kingdom, Landvac 8.3mm thin structure vacuum glass is mainly used in the renovation and restoration of old antique windows, allowing the concept of inheritance of history and the trend of "net-zero carbon emissions" can be reconciled. In Germany, Landvac anti-condensation vacuum glass has become a fixed vendor of Siemens, an internationally renowned home appliance enterprise. The ultra-low dew point, lead-free, and environmentally friendly Landvac safety vacuum glass has been successfully applied to Siemens' high-end wine, beverage, and beauty series freezer products; in Denmark, Landvac vacuum insulating glass has become a fixed vendor of VELUX, an internationally renowned skylight enterprise. The super-thermal insulation, tempered and safe Landvac vacuum glass products are very suitable for the use of skylights.