LandGlass at ZAK 2017
2017-12-25
December 7 - 10, 2017, the 15th ZAK Glass Technology, a four-day event was successfully held in Bombay, India. The international sales team from LandGlass participated this exhibition.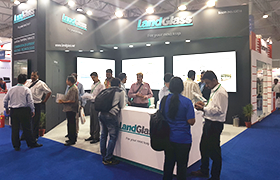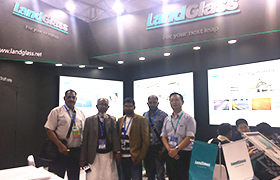 As a regional power in South Asia, India has significant economic impact to the region. As such, ZAK Glass Technology held in India is undoubtedly an important showcase for glass enterprises in South Asia. This ZAK exhibition attracted not only many professionals from local glass processing companies, but also customers from dozens of neighboring countries. During the exhibition, LandGlass' forced JetConvection glass tempering furnace and Cyclone series glass tempering furnace drew great attention of glass processing manufacturers in South Asia, thanks to the industrial leading technologies. Some customers from India and Bangladesh even signed the purchase agreement with LandGlass at the exhibition site. In addition to making new friends, we also met many of LandGlass' existing customers there. Mr. Ashok, General Manger of FUSO, is one of our old friends in India. His company has already purchased four sets of glass tempering machine from LandGlass, including our best-selling products such as Convection, F&B, and Cyclone series glass tempering furnaces. These furnaces, especially the Cyclone tempered glass machine put into operation this year, helping FUSO to fulfill many premium quality, very difficult, and high demanding orders, have further strengthened the company's access to high end market and effectively expanded their market share. Besides the glass tempering furnaces, another hit product of LandGlass - LandVac vacuum insulated glass also caused great sensation at the exhibition. The excellent properties and performance of LandVac in thermal insulation and noise isolation generated strong interest among visitors and inquirers.
Over the years, thanks to its leading technologies, superior product quality, and thoughtful customer service, LandGlass has established great business reputation in the regions of South Asia. In the meantime, having in mind the growing customer expectations, LandGlass is committed to continuously improving ourselves while assisting our customers to succeed!